Leadership Development | Executive Coaching | Team Building | Facilitation | Training | Conflict Resolution
Diversity, Equity and Inclusion (DEI) | Strategic Planning | Change Management |  Writing and Editing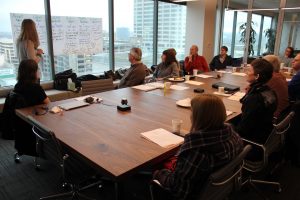 Organizational Development is a set of strategies and techniques that create a supportive culture focused on implementing the organization's mission and vision. IGS's approach to organizational development includes:
Client partnership development through inclusive planning meetings that build trust and engage the strengths of all affected parties
Assessment of organizational culture and team effectiveness using interviews, focus group discussions, written assessments and organizational observations.
Hands-on activities that are both enjoyable and meaningful for participants.
Assessment results feedback to view the organization from diverse perspectives.
Strategy and timeline development for supporting a healthy culture and productive teams.
Ongoing feedback and coaching and any needed "course corrections."
Final assessment and report.
With extensive expertise in guiding organizational transformation, IGS partners with client organizations that are constantly reacting to rapid and chaotic change. These partnerships result in organizational flexibility, increased productivity and employee ownership. IGS is known for its successful outcomes – while having fun along the way.