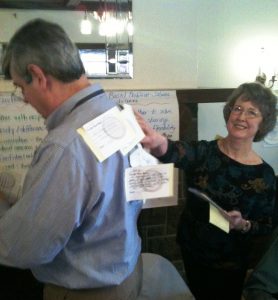 The IGS coaching process supports leaders as they make changes to enhance their leadership skills and increase organizational performance. IGS employs two coaching models: informal "just in time coaching" to deal with immediate needs or solve specific problems, and formal, outcomes-driven coaching programs designed to improve performance.
Informal individual coaching involves offering:
Customized guidance,
Mentoring, and
Problem-solving to deal with specific situations.
Formal coaching includes:

An assessment to determine desired outcomes and set objectives,
One-on-one coaching sessions to develop practices that support the coaching outcomes, and
Coaching evaluation to determine if outcomes have been met and to identify future opportunities to ensure desired results.
IGS also provides training to develop coaching skills in leaders at every level of the organization.  Conceptual, practical and highly experiential, the training allows for maximum skill development and practice.
"It's never an easy path for an entrepreneur. Conceptualizing, developing and refining an idea that I alone knew so well was the easy part. Creating and then leading a talented team to support me in carrying out my objectives through to success was the part whose difficulty I had not anticipated. Working with Shirlene and Innovative Growth Solutions has helped take me and my business to the next level. Shirlene brought the right mix of analytical tools, behavioral psychology, professional coaching, role playing, business anecdotes and even common sense to help us grow. It would have taken me years to get us to where Shirlene got us in just a few short and very productive months."


Erik Wolf, President & CEO, International Culinary Tourism Association

Portland, Oregon, USA
"As a result of working with Shirlene, I have been able to re-focus my priorities and goals to take the organization to the next level. She has helped me navigate the various politics and personalities of my leadership team, which has resulted in our working more effectively as a team. Shirlene's real life experience in various leadership roles within the nonprofit structure, coupled with her for profit business acumen, provides a unique blend of clarity, depth and insight into the opportunities and challenges faced by leaders today."


Temie Seibert, Executive Director, IMCA (Retired)