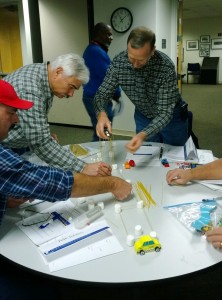 IGS helps teams define their purpose and role and strengthen their effectiveness through group team-building workshops.  IGS believes that in order to be effective, teams must have:
A common goal or mission
A high level of trust that is manifested through a sense of "ownership" inherent in their work and team development
A degree of interdependence based on an appreciation of the strengths of individual members
A belief that they can accomplish more as a team than through individual effort.
IGS is able to facilitate one-time meetings as well as highly complex organization-wide processes. Following an assessment of the team and its environment, IGS will customize a team building strategy.
IGS has expertise the following critical team-building skill areas:
Team dynamics including group culture and diversity
Meeting facilitation techniques
Appreciative Inquiry (i.e. the identification of, and building upon, strengths of the team)
Team development life cycle
Team roles, both formal and informal
"…Innovative Growth Solutions, LLC, gave our non-profit just what we needed! IGS provided us with coaching and team building sessions and gave us many tools to use in both communication and problem solving. Because of the positive experience we had with IGS, we have recommended IGS to others."


Esta Mapes, Board of Directors, Garden Home Community Library
Team Building Approach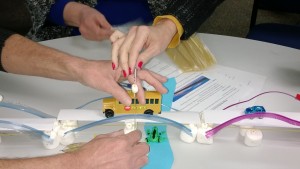 IGS' overall approach to team building is one of partnership. We work with organizations to define a strategy that identifies and maximizes the team's strengths and assists in the development of actions and strategies that will move the team toward its vision for the future. These strategies and techniques ultimately create a supportive culture focused on achieving the organization's mission and vision. Our experience and customization approach will lead to short-term success as well as long-term sustainable change.
IGS begins the team development process with a customized assessment of the team and its environment. We then summarize assessment results, present the results to the team for review and develop appropriate team building processes addressing the team's strengths and weaknesses.
Past Successes
IGS has provided facilitation services to many governmental and non-profit agencies including Portland Development Commission, Portland Community College, City of Portland, Clackamas County, Garden Home Community Library, Children's Nursing Specialties, Tillamook County, Oregon Department of Transportation,  Oregon Commission on Children and Families and The Oregon Advocacy Commission.