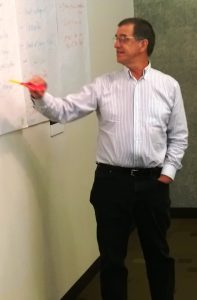 The Train the Trainer Development series is designed to meet the needs of today's adult learner and help create the "learning organization."  This course provides an experiential approach to instruction, ensuring that the learner becomes fully engaged in the training so they can effectively pass on their knowledge and skills to others.  This series helps trainers expand their teaching techniques, increase their curriculum design skills and learn effective strategies for managing a variety of classroom situations.
IGS has developed and delivered customized training programs to many governmental and non-profit agencies including City of Portland, Port of Portland, Oregon Child Development Coalition, Oregon PERS, Oregon Department of Fish and Wildlife and Northwest Evaluation Association.
Example Training Outline
The following example is a synopsis of a Train-the-Trainer program. IGS will customize the contents of your organization's training program to meet your needs following an training needs assessment at the start of your project.
Training Design
Two program modules delivered in 4-hour sessions for a total of 8-hours of training.
Workshops delivered in a classroom setting with one trainer for every fifteen participants.
Each session is highly interactive and experiential with practical "hands on" activities that are targeted to the audience. Classes are fast paced and action packed and include: training videos, assessments, agency-specific case studies, role play, and group learning games. In addition, each session includes:

Activities that address individual learning styles to ensure information is retained and that the learning is enjoyable and comfortable for all participants.
Participants will develop a plan for applying the workshop concepts "on the job."
Training Overview
The Train-the-Trainer Development series is designed to meet the needs of today's adult learner. This course promotes a highly experiential approach to instruction ensuring that the learner becomes fully engaged intellectually, emotionally, socially and kinesthetically in the training.
The goal of this training series is to help the participant to expand his/her teaching techniques, including preparation for meeting unique classroom challenges, effective curriculum design, and overall development of trainer expertise.
Module 1: Individual Training Style & Adult Learning Styles
Students will identify their unique training/learning styles and learn how to incorporate this information into their training sessions. Doing so will help them respond appropriately to the diversity of learning styles found among adult learners. In this module students will examine the key characteristics of adult learners, review and apply relevant learning theories, and learn how to incorporate these important elements into their trainings. This content allows the student to respond to the uniqueness of each adult learner.
 Core Objectives
Identify natural training/learning style
Demonstrate how learning style knowledge can enhance individual teaching ability
Examine the key characteristics of an adult learner
Examine Bloom's Progression for Learning
Examine Kolb's Learning Theory Sets
Examine how diverse learning styles can impact teaching methods.
Module 2: Curriculum and Instructional Design
Key elements of curriculum development will be examined. Students will also learn the main tenets of instructional design. In this module there is an emphasis on the concept of active learning and its importance in adult learning. Individual activities, group activities, and experiential activities will be explored.
Core Objectives
Curriculum development for effective Adult Learning
Identify the seven elements of Instructional Design
Examine Dewey's Model of Experiential Learning
Presentation skills that produce results.
Effective Listening, Questioning and Discussion Techniques