Excellent customer service is the foundation of success for any organization – public, private or non-profit.  In IGS' fast-paced and interactive customer service training program, participants learn:
To view their service or product from the eyes of their customers;
How to identify the needs of their various customers, build customer rapport, and create internal collaboration resulting in improved customer service; and
Effective techniques for dealing with difficult customers – as well as how to manage stress associated with challenging customer service situations.
Training Design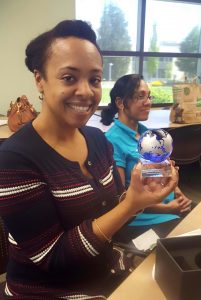 IGS training sessions are highly interactive and experiential with practical hands-on activities targeted to the professional development needs of supervisors, managers and frontline staff.  Classes are fast-paced and action-packed and include:  training videos, assessments, case studies, group activities, role play and group learning games.  IGS training programs support individual learning styles resulting in learning retention and end with the development of a plan for applying the learned material back 'on the job'.
IGS has developed and delivered customized customer service training programs to many governmental and non-profit organizations including Oregon PERS, Portland Community College, American Public Works Association and OHSU.
Example Training Outline
The following illustrates a typical outline for a customer service training program. IGS will customize the contents of your organization's training program to meet your needs following an training needs assessment at the start of your project.
Learning Objectives:
Identify customers and understand their needs.
Review standards for providing excellent customer service.
Learn how to anticipate customer needs.
Learn to deal effectively with customer complaints.
Understand how to identify cultural influences and communicate effectively with a diverse customer base.
Develop strategies for ongoing customer service improvement.
Benefits of Excellent Customer Service:
Identify benefits of customer service success.
Understand how excellent customer service builds community support.
Appreciate how excellent customer service reduces personal stress.
 Customer Service Standard:
Define or review the agency's expectations for customer service.
Identify customer service successes and opportunities for improvement.
Define impact of successful and unsuccessful customer service experiences.
Understanding and Managing Customer Expectations:
Identify customer groups and their needs.
Identify cultural influences.
Rank current levels of customer satisfaction.
Identify your customer's top two expectations.
Understand the source of your customer's expectations.
Identify strategies to increase your effectiveness by focusing on the top expectations of your customers.
Skills for Excellent Customer Service:
Review and demonstrate how attitude and perceptions affect customer service success.
Understand how personality styles affect your customer service approach.
Understand how cultural differences impact the customer service experience.
Expand your communication skills by practicing and incorporating the following techniques:

Active and passive listening
Verbal and non-verbal communication
Open-ended questioning
Paraphrasing
Negotiating solutions
When the Going Gets Tough:  Managing Difficult Customer Service Situations:
Understand how emotions are created.
Learn to avoid emotional triggers.
Practice strategies for remaining calm under pressure.
Expand your conflict management skills:

Understand the conflict process
Determine your preferred conflict management style
Identify how to utilize the various conflict management styles in customer service situations

Tips for dealing with chronically difficult customers.
Tips for dealing with angry or abusive customers.
How to use a recovery system to turn an angry customer into a satisfied customer.
Applying the Customer Service Skills:
Tips for applying the customer skills: Telephone, E-mail, Service Counter, Field and Customer meeting (i.e. neighborhood meeting)
Action Planning: 
Identify priority customers.
Identify customers' top expectations.
Identify specific actions that you can commit to take to improve customer service.